Make your content stand out.
We write articles, blog posts, marketing materials, websites, and more to help you grow your business.
You want more traffic to your website. We get it. And that's why we do what we do—create content that powers online conversions for businesses across the web.
Our content writers are experts in writing quality content and coming up with creative ideas that can help your business to achieve increased traffic, better branding, and conversion rate.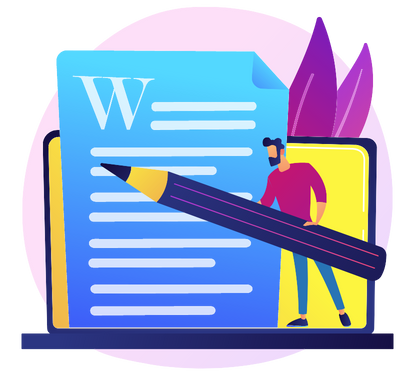 Our team of professional writers are here to help!
In this space, we'll tell you all about the content writing services we offer. We've got a team of professional writers who are ready to help you boost your brand, educate your customers, and get more traffic to your website.
You might be thinking: "What does 'content writing' even mean?" Well, it's pretty simple: We write original, engaging content that's perfect for your needs. That might mean creating copy for an ad campaign or landing page, or building out the content on your website. It might also mean writing a blog post or article for publication online.
What kind of content do we write? Anything you need! Our team is made up of talented writers who specialize in different areas so we can meet your needs no matter what they are—and make sure that everything we do is 100% original and 100% yours. 
We know that writing can be a hard thing to do, so we're here to help!
Our content writing services are designed to make it easier for you to get your message out there. Whether you need help with a blog post, social media messaging, or anything else that requires words, we're here for you. Our content writing services offer:
Ready to write a persuasive piece? We're ready when you are.
Content is the cornerstone of your company's digital presence, and we're ready to help you craft engaging, keyword rich content assets to boost search engine rankings and drive leads.
At Primex Digital, we believe that your content should be as unique and beautiful as you are.
We know how important it is to represent yourself in the best light, and we want to help you do that with our content writing services.
Whether you're a small business owner or a large corporation, we have the right content writing service for you. Our team of experts includes copywriters and editors who can handle any project, no matter how big or small!